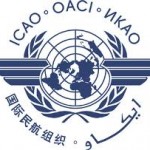 FANS Phase I
On 25 and 28 November 1983, the ICAO Council established the Special Committee on Future Air Navigation Systems (FANS) with the following terms of reference:
"To study technical, operational, institutional and economic questions, including cost/benefit effects, relating to future potential air navigation systems; to identify and asses new concepts and new technology, including satellite technology, which may have future benefits for the development of international civil aviation including the likely implications they would have for users and providers of such systems; and to make recommendations thereon for an over-all long-term projection for the co-ordinated evolutionary development of air navigation for international civil aviation over a period of the order of twenty-five years"
The Committee made a comprehensive assessment of the characteristics and the capabilities of the, at that time, present  air navigation systems and of their implementation in various parts of the world. Their shortcomings around the world amounted to essentially three factors:
the propagation limitations of current line-of-sight systems and/or accuracy and reliability limitations imposed by the variability of propagation characteristics of other systems;
the difficulty, caused by a variety of reasons, to implement present CNS systems and operate them in a consistent manner in large parts of the world; and
the limitations of voice communication and the lack of digital air-ground data interchange systems to support automated systems in the air and on the ground.
Four years after the FANS Committee started its work and at the conclusion of its fourth and final meeting (Montreal, 2 – 20 May 1988), the Committee presented to the ICAO Council and to the international aviation community at large, a consolidated proposal for the future global air navigation system. (See ICAO Doc 9524, FANS/4 REPORT)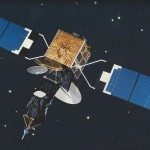 Essentially, the Committee concluded that the application of satellite technology was the only then viable solution that would enable international civil aviation to overcome the shortcomings of the, at that time, current CNS systems and to fulfill the needs and requirements of the foreseeable future on a global basis.
The main features of the "new technology" global concept of CNS system proposed by the committee may be recapitulated as follows:
COMMUNICATIONS:
Satellite data and voice communication capability for at least the larger part of the world. Initially, HF may have to be maintained over polar regions until such time as satellite communications is available.
VHF will remain in use for voice and certain data communications in many continental and terminal areas.
The SSR Mode S data link will be used for ATS purposes in high density airspace.
NAVIGATION:
Progressive introduction of RNAV capability in compliance with RNPC criteria.
Global navigation satellite system(s) will provide world-wide coverage and will be used for aircraft navigation and for non-precision type approaches.
Microwave landing system (MLS) will replace instrument landing system (ILS) for precision approach and landing.
NDB and VOR/DME will be progressively withdrawn.
The use of Omega, Loran-C will diminish.
SURVEILLANCE:
SSR Mode A/C or SSR Mode S will be used in terminal areas and in high density continental airspace.
Automatic dependent surveillance (ADS) will be used in other airspace and may, eventually, replace some SSR.
The use of primary radar will diminish.
From 4 November 1987, D. Diez actively participated in the work and meetings of the FANS Phase I Committee.
FANS Phase II
On 6 July 1989, The ICAO Council established the Special Committee for the Monitoring and Co-ordination of Development and Transition Planning for the Future Air Navigation System (FANS Phase II) with the following terms of reference:
To identify and make recommendations for acceptable institutional arrangements, including funding, ownership and management issues for the global future air navigation system.
To develop a global co-ordinated plan, with appropriate guidelines for transition, including the necessary recommendations to ensure the progressive and orderly implementation of the ICAO global, future air navigation system in a timely and cost beneficial manner.
To monitor the nature and direction of research and development programmes, trials and demonstrations in CNS and ATM so as to ensure their co-ordinated integration and harmonization.
D. Diez was Member of the FANS Phase II Committee. For almost five years, from its establishment by the ICAO Council on 6 July 1989 till its dissolution on 11 march 1994, D.Diez actively participated in the work and meetings of the Committee. ICAO Doc 9623, FANS(II)/4 REPORT contains the work done.
Click to see supporting   AENA CERTIFICATE
Click to see Congratulaions letter_2
Click to see   FANS COMMITTEE MEETINGS ATTENDED
The new communications, navigation, and surveillance (CNS) system concept, as developed by FANS I and FANS II Committees, was presented to the States at the TENTH AIR NAVIGATION CONFERENCE , held in Montreal from 5 to 20 September 1991 and attended by 450 participants from 85 Contracting States and 13 international organizations (See Doc 9583, AN-CONF/10 REPORT). In a previous SYMPOSIUM ON FUTURE GLOBAL CNS SYSTEMS ,Montreal , 4-5 September 1991,  D. Diez had the honor to present the Aeronautical  Mobile Satellite Service (AMSS) to the attendees to the Conference (ICAO Doc : SYM-IP/1).
Click to see Congratulations letter_1
OPENING REMARKS BY DR. A. KOTAITE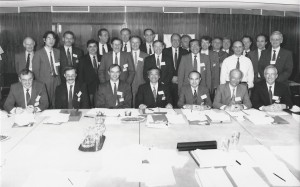 FANS Phase II WG3, LONDON 26-28 February 1991. Meeting chaired by George Paulson to discuss R&D Trials and Demonstrations Programmes .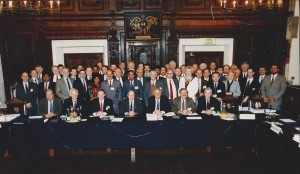 In the early 1990s, the Boeing Company launched a first generation FANS product known as FANS-1. This was based on the early ICAO technical specification for Automatic Dependent Surveillance (ADS) and Controller Pilot Data Link Communications (CPDLC), and implemented as a software package on the Flight Managment System (FMS) of the Boeing 747-400. It used existing satellite & VHF based  ACARS communications (Inmarsat Data-2 service) and was targeted at operations in the South Pacific Oceanic region. A similar product (FANS-A) was later developed by Airbus for the A-340 and A-330.
 ATC Services are now provided to FANS 1/A equipped aircraft in other Oceanic airspaces, such as the  Atlantic. In the Canary Islands, 
operational evaluation trials
 with FANS 1/A equipped aircraft, in which D. Diez as ADS&CPDLC Programme Manager was the Aena Headquarters Trials Coordinator, started in  August 2002 using the SACCAN system that incorporated the philosophy, tracking algorithoms and functionality developed within the ADS-SSR  integration Study carried out by Aena in 1994.
The ICAO standard for CPDLC using the Aeronautical Telecommunications Network (ATN) is preferred for continental airspace and is currently being deployed in the core European Airspace by EUROCONTROL  under the LINK2000+ Programme, in which D. Diez participated as member of the LINK2000+ Operational Focus Group (OFG).
Mandatory carriage of the ICAO compliant system was the subject of an Implementing Rule issued by the European Commission (
COMMISSION REGULATION (EC) No 29/2009 of 16 January 2009)
. This Regulation accommodated the use of FANS-1/A by long haul aircraft. All other airspace users had to be ICAO compliant.
The Regulation that was binding, was supposed  to  apply from  7 February 2013 to all flights above FL 285 operating  within the following Flight Information Regions (FIR) and Upper Flight Information Regions (UIR):
Amsterdam FIR, Wien FIR, Barcelona UIR, Brindisi UIR, Brussels UIR, Canarias UIR, France UIR, Hannover UIR, Lisboa UIR, London UIR, Madrid UIR, Milano UIR, Rhein UIR, Roma UIR, Scottish UIR, Shannon UIR.
By 7 February 2013 CPDLC had to be fully operational within the above Regions.  Unfortunately all this has been delayed.
(to be continued)
FANS Committee Related Articles
Attached an article in spanish by D.Diez about the FANS Committee published at the ATC Magazine, nº. 3,  January/March 1995